Please join us on Thursday, December 9th at noon EST for a webinar to introduce our new "Bring Your Own Results" (BYOR) interactive interface. Expanding on the range of data types that the Knowledge Portal Network represents, and recognizing a need in the research community to provide early access to new results and visualizations, we have built a user-friendly interface that allows researchers to showcase and share biomedical data in interactive tables and graphical visualizations, without the need for computer programming expertise.
The BYOR service facilitates sharing of results in many ways:
researchers may create single Research Pages, or multi-page Research Portals
Research Pages or Portals may be created independently, or in collaboration with our team
the Page or Portal may stand alone, or, if the results are relevant to one of the existing Knowledge Portals (KPs), may eventually be incorporated into the full-scale KP
Research Pages or Portals may be password-protected, so that a group of researchers can work with and visualize data privately, or they may be open-access.
The BYOR interface has already been used to create tables of effector gene predictions with supporting evidence (Research Pages; see an example) and also to create Research Portals accompanying submitted manuscripts (see an example).
Find more information on the BYOR service here, and please attend our webinar to get all the details! The flyer and connection information are attached below. Please feel free to circulate this to interested colleagues. We'll also record the webinar and make the video available for those who can't attend. Joining instructions are below. Please download the flyer and circulate it to interested colleagues!
---
Thursday, December 9, 2021
12-1 PM US Eastern Standard Time
Join the webinar
Webinar ID: 929 4454 8843
Passcode: 238206
Or iPhone one-tap :
US: +16468769923,,92944548843#,,,,*238206# or +16465588656,,92944548843#,,,,*238206#
Or dial (for higher quality, dial a number based on your current location):
US: +1 646 876 9923 or +1 646 558 8656
International numbers available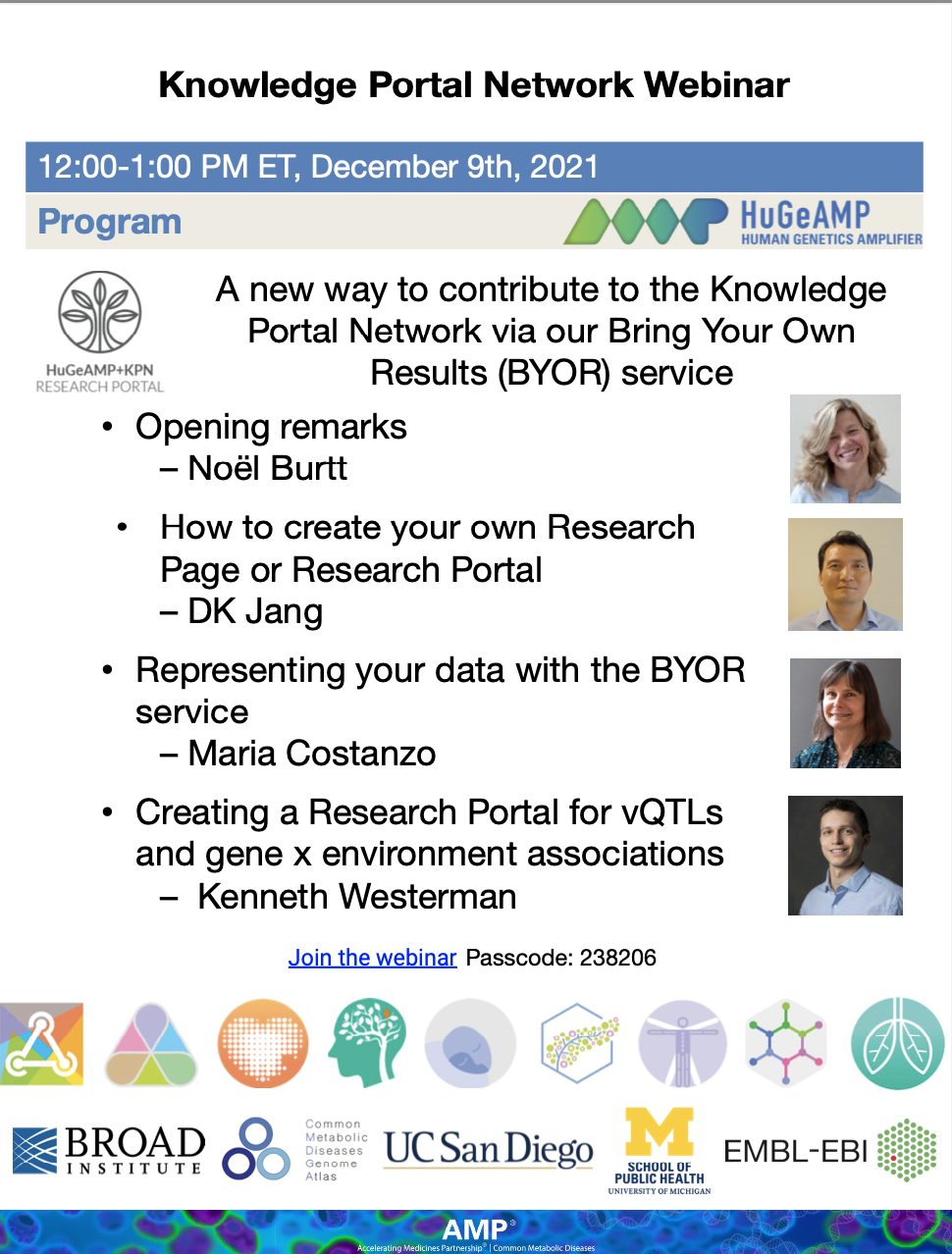 md, t1d, t2d, cd, cvd, sleep, msk, lung, neph, nage, a2f, a2f